Main content starts here, tab to start navigating
Hook & Master is Chef Jose Garces' most recent foray into the world of pizza and seafood small plates. With a cool nautical theme, supported by a bespoke tiki cocktail list, Hook & Master offers three distinct style of pizza: Brooklyn, Pan and Thin Crust Tavern Pies.
How it Came to Be
"I've always wanted to open a Chicago style pizzeria" - Chef Garces, probably
About Jose Garces
Here is info about Jose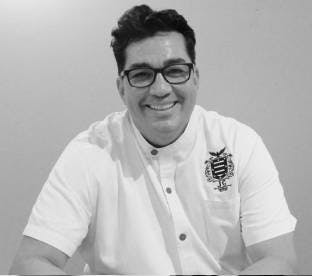 Iron Chef, father, husband, James Beard Award-winner, entrepreneur, and food innovator, Chef Jose Garces is known as a leading culinary authority of Spanish and Latin-American food.
From the Spanish tapas at Amada, his first restaurant, to the playful Japanese street food at Okatshe in Atlantic City, Chef Garces continually pushes the boundaries of culinary excellence.
Today he's bringing the same Garces standards of excellence to the world of pizza and tiki drinks. Inspired and informed by his time growing up in Chicago, Hook & Master highlights three styles of pizza, Chicago Tavern style, Pan Style and Brooklyn Specialty Style.
As a child of immigrants and a leader in the diverse and inclusive hospitality industry, the wellbeing of his community in Philadelphia has always been dear to Chef Garces' heart. To help provide ongoing and actionable assistance to the immigrant community, Chef Garces co-founded The Garces Foundation in 2011. The Garces Foundation provides services, including community health days, English language skills classes that target the restaurant industry, and most recently, an increased focus on procuring and providing food supplies to the food insecure.
Chef Garces is the author of two cookbooks, Latin Evolution and The Latin Road Home, published by Lake Isle Press.